Jeremy Gallman
by Jessica Young |
Read about how this Outdoor Leadership student is turning his hobby into a career.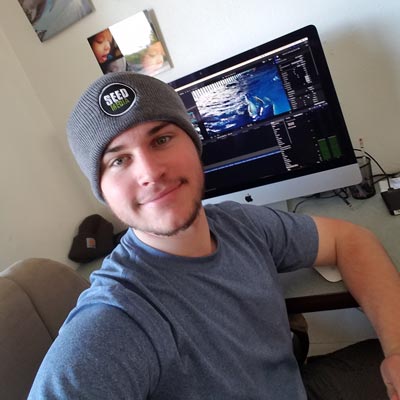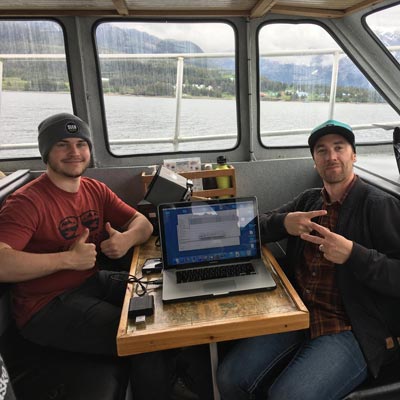 Jeremy Gallman is a Prince William Sound College student who is making his dreams of working in the film industry a reality. He is currently working toward a degree in Outdoor Leadership with an emphasis in Adventure Filmmaking and completing the internship credit requirement though Seed Media. Since starting with Seed Media Jeremy has worked on some exciting projects, including work with PBS and BBC on their television special Wild Alaska Live. Jeremy's passion for film brought him all the way to Valdez, from Southern California, and we're excited to see where he goes next.
Here is what Jeremy had to say about his love of film, time in Valdez, and his internship during an interview with PWSC's Jessica Young.
It seems like you have been able to get out and capture the beauty of the area. I have seen some of your work that you post to social media and it's really impressive. How did you get into film?
It [Alaska] is in my opinion the most beautiful state. I have explored most of Valdez, or at least the more accessible areas. Thanks! My dad would always make home videos with editing software on his laptop. I was always intrigued and curious about it. I started getting into film about 5 years ago, when I created my first successful YouTube channel. Those days were all about having the best production quality in order to attract viewers, so I had to learn how to use a camera in order to improve my videos. Learning how cameras worked in my photography class in high school allowed me to see the world differently. It was around then when I realized how deep my passion was for capturing meaningful moments.
Do you have a favorite subject matter?
My favorite subject matter is landscapes. Natural landscapes are my favorite due to the dramatic vistas and sentimental lighting that just cannot be replicated through artificial lighting or studio environments. There is a sense of nostalgia when I look back on what I have captured in nature. I typically become emotionally connected to the places I go through capturing its atmosphere.
What's your favorite part about living in Valdez?
My favorite thing about living in Valdez has to be the location. It's surrounded by a 360-degree panoramic mountain range. The fjord or arm of water stretching into the port of Valdez makes the town feel as if it is being protected by the towering Chugach Mountains. Being at the end of the road is a neat feeling too. I wouldn't say the town is remote…but it feels safe due to the "snow globe" effect of being anchored in the middle of the mountains.
Do you have a favorite day or memory from being here?
There was one night in March where I went across the bay to catch the Northern Lights. I went with some friends to a beach spot around 1 a.m. or so. It was the most heavenly display of green and purples dashing through the sky above, completely illuminating the entire bay below, and stretched over Mineral Creek to the Valdez Glacier. That was the most memorable night I've had so far. Here's a photo I took from that night.
How's your internship at Seed Media going?
My internship is going better than I ever could have imagined. From filming in Valdez, to meeting wildlife experts who were here during the 1989 Exxon Valdez Oil Spill, to traveling and filming in Whittier, and more recently, filming with a BBC Planet Earth crew for the PBS special Wild Alaska Live. It has been a great summer so far. Working as the production assistant, I am exposed to both sides of production and post-production. I have also learned new things like how to edit with software that I have never used before – Final Cut Pro X on the Mac. It is an honor to work alongside my two mentors, Thomas Tappand Jorge Arciniega. They are phenomenal directors and video editors who are all about helping me grow my skill set to become better in all aspects of film.
What is your dream job?
I feel like this internship fits my description of a dream job pretty well. I am able to travel, film, and learn new things – almost everyday. Right now, I am doing exactly what I wanted to do a year ago. My internship at Seed Media has marked a huge milestone in my life and I cannot wait to see where it brings me.
"Right now, I am doing exactly what I wanted to do a year ago. My internship at Seed Media has marked a huge milestone in my life and I cannot wait to see where it brings me."
If you could give one piece of advice to other students who want to find success, what would that be?
In order to find success, it is important to be a student of your passion. Searching for knowledge about what you love in life can keep things interesting and lead one to naturally achieve more. Stepping up to the next level is all about the right timing. As long as one is consistent at their trade, takes every opportunity, and capitalizes on those opportunities, they should be able to find success in their future. For me, the most important aspect of finding success has got to be enthusiasm. Students must stay optimistic about their future in order to grow.