Wendy Goldstein receives Staff Recognition Award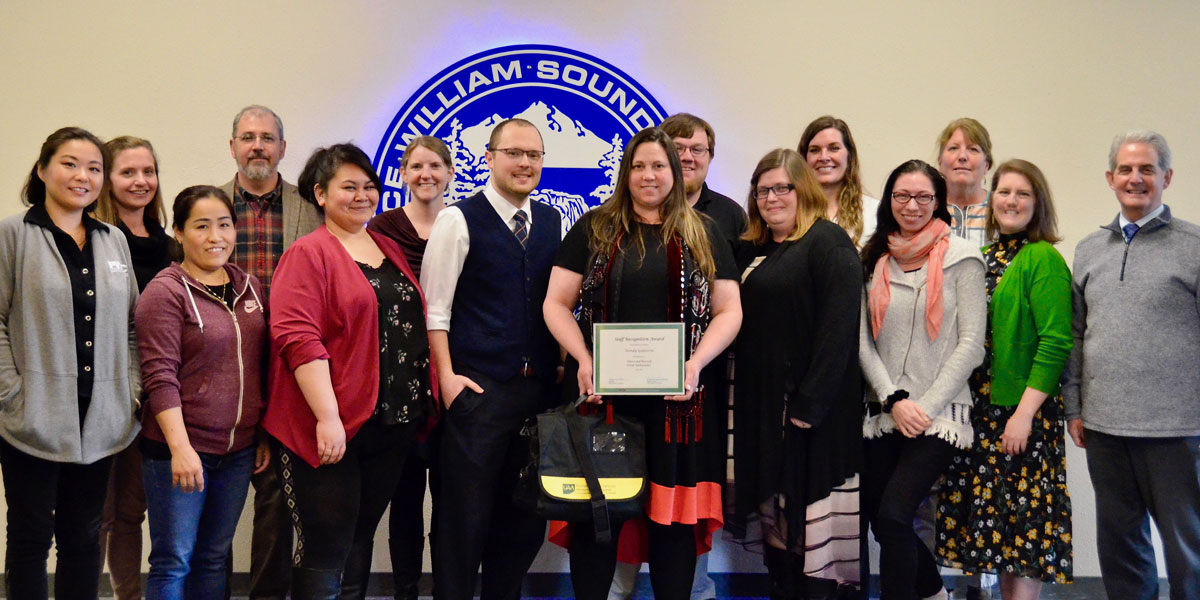 Wendy Goldstein received UAA's Staff Recognition Award. She is honored in the areas of Above and Beyond and Good Ambassador. This award is presented monthly by UAA Staff Council to employees who contribute to the success of UAA.
To be awarded based on the criteria of Above and Beyond the staff member must be "Willing to go above and beyond regular work duties to assist others." The criteria of Good Ambassador is described as "Being a good ambassador by enhancing/promoting the image of the department, college, program, unit, and/or university by serving on committees and/or work with groups/organizations outside of the university."
More information on the award can be found on UAA's Staff Recognition Award webpage.
Wendy received eight nominations for this award; here are three of the nomination statements:
"Wendy went out of her way to make me feel important and show her support. Although it was not her job, she spent time with me to teach me University Policy and Procedure for creating new events, the risk management process, and marketing. She is constantly seeking new opportunities for classes, lectures, and events for our staff, students, and community members."
"Reaching out to the community to teach special interest classes that meet our small town needs and enrich our lives: pottery, drones for senior citizens, dog mushing, community science lectures, etc. Wendy has gone above and beyond by applying for grants from the United Way to raise money for the college to host personal enrichment courses that underserved populations may benefit from and attend for free. The work she does is shaped by her mission of listening to what people want and providing it, and time and time again, she has put this mission into practice. Wendy makes consistent efforts to provide diverse community programming through special interest workshops, children and family programs, and professional development offerings. She is the inspiration behind many of the art workshops offered."
"Wendy is a very good ambassador of the college. Wendy coordinates community activities, workshops, and events at the college and does so with a positive attitude toward customer service. She often designs her programs based on the feedback that the Valdez community members have given her. If they ask for a specific class or workshop, she'll work hard to put it together. Wendy is often the college representative for many community events. She has been a board member for Relay for Life for several years, working as the events chair in 2012 and 2013, the logistics chair in 2014 and 2015, and Team Captain for Prince William Sound College since 2011. She has also been a board member and secretary of the Friends of the Valdez Animal Shelter. She volunteers her time at the shelter, and coordinates pet care workshops at the college."
Wendy is a valued staff member at UAA and PWSC.