BLM Internships
"The internship was awesome. It was a truly unique and fulfilling experience. I learned a lot about Alaska and got to see so much that I hadn't before. I also learned a lot about the BLM and how it operates within the state. Being on the trail and river crew was great. The group developed a strong sense of camaraderie from being out in the field so much, and I gained a few new friends in this world. My internship gave me several opportunities to practice organizational, leadership, technical, and teamwork skills."

- Ryan Chalker, BLM River and Trails Intern
Bureau of Land Management (BLM) Internships for PWSC Students
The Bureau of Land Management (BLM) and Prince William Sound College offer PWSC students a unique and exciting internship opportunity in public land conservation. All part-time or full-time, degree-seeking PWSC students are eligible to apply.
Previous BLM Interns: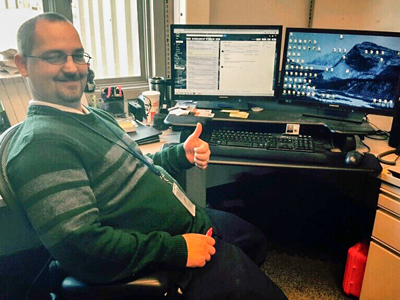 BLM Safety Intern
As a safety intern for the Bureau of Land Management (BLM), PWSC student Jeremy Miller shares that "safety is not about me, it's about you." Here he is working in the BLM office in Anchorage. Jeremy earned an Associate of Applied Science in Industrial Technology with an emphasis in Safety Management.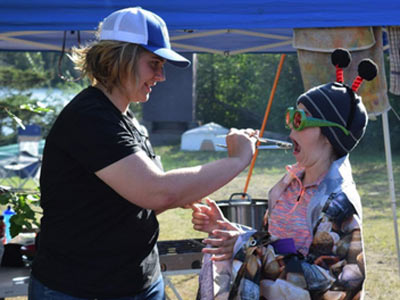 BLM Outdoor Youth Leadership Intern
PWSC student, Naomi Ray, spent the summer working as an intern for the Bureau of Land Management – Alaska. She is featured in this photo helping a Wrangell Institute for Science and Environment (WISE) student dress up as a macroinvertebrate for a lesson in adaption. WISE works in partnership with the BLM's Glennallen Field Office to provide outdoor learning opportunities and school science programs in the Copper River Valley. As a BLM intern, Naomi Ray joined WISE for many adventures in 2016.
Read stories on previous BLM interns
View PWSC students' BLM internship images on Flickr
Benefits for completing a 12-week summer internship with the BLM include:
Summer housing through the BLM
$6,000 stipend
Earn up to three college credits; tuition waiver may be applied.
Training provided by the BLM: CPR, First Aid, and more.
Enjoy hiking, rafting, fishing, and camping while serving our public lands in Alaska.
Build professional relationships and work experience in the natural resource career fields.
Open pathways to future employment and career opportunities.
BLM Intern Positions for 2020
BLM intern position for 2020

WANTED: Enthusiastic Interdepartmental BLM Interns (Multiple positions) for the Bureau of Land Management Glennallen Field Office

Eligibility
Degree seeking (taking at least 6 credits) students at PWSC. For this position, interns must be 18 or older on or before May 16, 2020, to apply.

Benefits include
• Stipend: For credit: $6,000 with cost of tuition – up to 3 credits; For non-credit: $6,000
• College credit up to 3 credits
• Housing through BLM
• Training provided by BLM: CPR, First Aid, and so much more
• Learn about the cultures and natural resources of South Central Alaska.
• Enjoy hiking, rafting, fishing, and camping, while serving our public lands in Alaska.
• Build professional relationships and work experience in natural resource career fields
• Open pathways to future employment and career opportunities.
• Experience the outdoors and beauty of Alaska.

Internship period and schedule:
Internship periods are 12 weeks beginning in May and ending in August. General work hours are Monday through Friday 8 a.m.-4:30 p.m. However, flexibility is required in order to meet the needs of our program. For larger projects, days may be 10-12 hours at a time, including some weekends totaling 80 hours bi-weekly.


Duties:
The intern will work within several of the BLM departments providing support as needed. Primary duties include working with the BLM Glennallen Field Office Lands and Realty staff, the front office staff, the Outdoor Youth Leadership program staff, and Campground staff.

Duties in the Land and Realty department may include Compliance inspections for issued authorizations; investigative work for unauthorized uses of public lands; assisting other programs within the BLM Glennallen Field Office; office work; and equipment maintenance and care.


Possible internship responsibilities and opportunities include: Backcountry camping; riding passenger in motorized and non-motorized boats; traveling by helicopter or fixed wing-bush or floatplane; operating All-Terrain Vehicles (ATV), Utility Terrain Vehicles (UTV) and/or highway vehicles; loading and securing ATV/UTVs on utility trailers; completing inventory and maintenance on-field equipment and gear; having a positive attitude; working both individually and with a team; working in bear country and being safety-oriented; utilizing a computer, GPS, and digital camera; writing reports and other documents as required; and completing other tasks as assigned by the Lands and Realty Program staff.

Duties in the outdoor leadership program and in the BLM front office may include work with the Bureau of Land Management (BLM) partners on behalf of BLM to accomplish summer youth outdoor programs. The intern must be willing to work with youth and adults of all ages and put the needs and opportunities of participants above their own. The intern must be willing to work outdoors in any weather conditions and must be willing to hike, camp, raft, or boat over a variety of terrain. Programs can require carrying heavy backpacks or tools and loading and unloading heavy equipment to and from vehicles and campsites. The intern will be familiar with and follow BLM required risk management documents, to include a risk analysis sheet, safety and communications plan, trip plan, volunteer agreements, and media releases. The intern will represent the BLM in the field to the public and be willing to demonstrate a land and resource stewardship ethic and a heart for public service. The intern will work to inspire youth to get outdoors and on to public lands and will help youth gain confidence in their outdoor skills. The intern will help promote, document, and report on youth programs. Photography or videography skills are not required, but beneficial. The intern will work with BLM staff on any logistical or equipment needs. The intern will help keep a tidy equipment area and will check-in and out any equipment utilized for each program. The intern may be assigned to work with partners in support of BLM/partner youth programs, such as scheduling, phone calls, mailings, logistics coordination, readying supplies, cleaning out or packing vehicles, and any number of offices duties or other duties as needed, such as mailing, copying, recycling, and data entry.

Campground maintenance worker duties may include Interacting with the public, giving accurate information about area recreational opportunities, native wildlife, plants, and birds.


Cleaning campsites, fire pits, minor painting, and landscape work, stocking brochures, some trail work, cleaning vault toilets, and day-use areas, garbage removal, taking site surveys and possibly assisting with water testing.


Candidate must use proper safety equipment and follow safety standards wearing protective gear when needed. Because of the remote area, knowledge of weather and the appropriate types of clothing and gear needed are helpful. There will be some lifting with this position up to 50 pounds, the use of small hand tools, and the use of cleaning supplies, paints, and stains.


This position will require some overnight camping or travel in remote areas. The campground maintenance position will work three to 5 days per week depending on the work needed. Hours will be 8-12 hours per day, which includes transportation time.

Desired skills: Excellent communication skills (must be willing to adapt to the styles of communication that others you are working with require, such as in-person, by phone, email, text, social media, interpretation, and writing; group leadership skills; outdoor skills (camping, camp cooking, fire starting, backpacking, fishing, rowing, boating); knowledge of or desire to learn and teach about the natural environment; organization skills – efficiently packing and storing equipment utilizing organizational systems; computer skills (MSWord, Excel, Gmail, other); and time management.

Contact Person: If interested in finding out additional information about the internship opportunity contact Vicki Heisser at 907-834-1667 or email: vheisser@alaska.edu.