BLM Internships
"The internship was awesome. It was a truly unique and fulfilling experience. I learned a lot about Alaska and got to see so much that I hadn't before. I also learned a lot about the BLM and how it operates within the state. Being on the trail and river crew was great. The group developed a strong sense of camaraderie from being out in the field so much, and I gained a few new friends in this world. My internship gave me several opportunities to practice organizational, leadership, technical, and teamwork skills."
Bureau of Land Management (BLM) Internships for PWSC Students
The Bureau of Land Management (BLM) and Prince William Sound College offer PWSC students a unique and exciting internship opportunity in public land conservation. All part-time or full-time, degree-seeking PWSC students are eligible to apply.
Previous BLM Interns: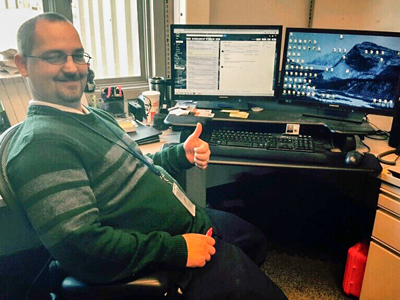 BLM Safety Intern
As a safety intern for the Bureau of Land Management (BLM), PWSC student Jeremy Miller shares that "safety is not about me, it's about you." Here he is working in the BLM office in Anchorage. Jeremy earned an Associate of Applied Science in Industrial Technology with an emphasis in Safety Management.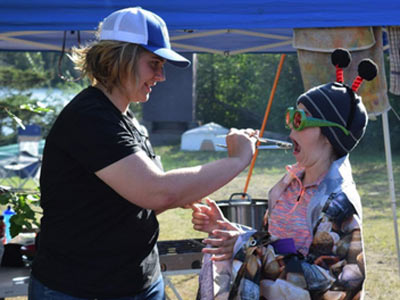 BLM Outdoor Youth Leadership Intern
PWSC student, Naomi Ray, spent the summer working as an intern for the Bureau of Land Management – Alaska. She is featured in this photo helping a Wrangell Institute for Science and Environment (WISE) student dress up as a macroinvertebrate for a lesson in adaption. WISE works in partnership with the BLM's Glennallen Field Office to provide outdoor learning opportunities and school science programs in the Copper River Valley. As a BLM intern, Naomi Ray joined WISE for many adventures in 2016.
Read stories on previous BLM interns
View PWSC students' BLM internship images on Flickr
Benefits for completing a 12-week summer internship with the BLM include:
Summer housing through the BLM
$6,000 stipend
Earn up to three college credits; tuition waiver may be applied.
Training provided by the BLM: CPR, First Aid, and more.
Enjoy hiking, rafting, fishing, and camping while serving our public lands in Alaska.
Build professional relationships and work experience in the natural resource career fields.
Open pathways to future employment and career opportunities.
Questions about BLM internships?
Contact:
Vicki Heisser
Program Coordinator
Phone: 907-834-1667
Email: vheisser@alaska.edu