Learn about the new employees: Cherise Beatus, Jason Smilie, Rusen Meylani, and Dennis Ragsdale.
Cherise Beatus
Financial Aid and Admissions Coordinator

Cherise Beatus is now the Financial Aid Advisor and Admissions Coordinator for PWSC. Cherise was born and raised in Fairbanks, Alaska. She also calls Hughes, Alaska, home since that is where her family is originally from. Hughes is a small village on the Koyukuk River in Interior Alaska. Cherise has experience as a dual-credit student in the UA system and has extensive experience with the federal financial aid process as a college student. Cherise graduated from Stanford University in 2017 and is currently working on a master's degree in public administration and policy through American University. When she is not busy working she enjoys taking pictures of nature and people.
Dennis Ragsdale
Construction Academy Project Manager

Dennis Ragsdale grew up in Tampa, Florida, and earned a Bachelor of Arts in Social and Behavioral Sciences from the University of South Florida. He also earned a Master of City and Regional Planning from the Georgia Institute of Technology. Dennis began his professional career in Atlanta working for the National Park Service as an outdoor recreation planner. Dennis served in the cities of Vero Beach, Melbourne Beach, and St. Cloud, Florida, and Valdez, Alaska, in various roles from planner to city manager. He also worked as a private planning and land development consultant and owned a consulting business for approximately 10 years.
This May, Dennis joined Prince William Sound College as Construction Academy Project Manager. The construction academy will focus on expanding the work force in construction trades and promoting cold climate housing construction techniques.
Dennis and his wife, Tasia, have four daughters and five grandchildren.
Jason Smilie
Career and Technical Administrator
Jason Smilie began his military career in 1997 when he enlisted in the United Stated Army as a field medic and remained in the enlisted ranks until 2003. He was commissioned in 2003 after completion of the Coast Guard Officer Candidate School. In 2010 he was called upon to assist in the Deepwater Horizon response and served as the deputy of the Vessel Decontamination Section at the Unified Area Command.
Jason recently earned a Doctorate of Business Administration in Entrepreneurship and Business Management from California Intercontinental University in 2017 and holds a Master of Science in Quality Systems Management from the National Graduate School. Jason has received many awards including a Joint Service Commendation Medal, an Army Commendation Medal, a Coast Guard Achievement Medal, an Army Achievement Medal, and four Coast Guard Commendation Medals.
Jason has joined Prince William Sound College as administrator for career & technical programs. This position provides strategic leadership in programming areas such as millwright, occupational safety, health, construction, maritime and industry training.
Jason and his wife Rebecca (Becky) are the proud parents of two sons, Jason and Hunter. Jason and his family love Alaska and living in Valdez, enjoying all that the close-knit community has to offer. He says, "There is no other place we would rather raise our children."
Rusen Meylani
Assistant Professor of Mathematics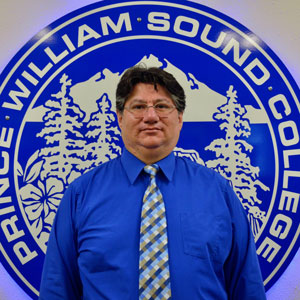 Dr. Rusen Meylani is the new Assistant Professor of Mathematics. Rushie is his nickname, given to him by a former student. He earned a Doctor of Philosophy from Arizona State University in curriculum and instruction, with a major specialty in mathematics education and minor specialties in educational technologies and instructional design. He also has a bachelor's and a master's degree in electrical and electronics engineering.
Dr. Meylani placed his signature beneath several scholarly contributions in education, applied mathematics, and engineering. These contributions include 12 books, 26 journal and conference articles, and 3 edited book chapters. He has presented at more than 40 conferences, seminars, and mini-courses, and 5 professional development series for in-service teachers for integrating technology in the mathematics classroom. He has developed more than 20 course curricula, a series of 7 educational videos on graphing calculators in the pre-calculus context, 24 educational mobile apps, and 4 patents. In 2004 he invented a method to teach 40 hours of pre-calculus in 4 hours, which attracted the attention of the US Department of Education bringing him to Arizona State University on a full scholarship as a Ph.D. student. Dr. Meylani has also been awarded many grants and fellowships.
He has served at several educational institutions worldwide, with a mission to make teaching and learning mathematics enjoyable. He often quotes and is a strong believer of the following statement: "If you give yourself to mathematics, mathematics will give you the world!"